Amy's Posts - Stories, Recipes, Photos & Ideas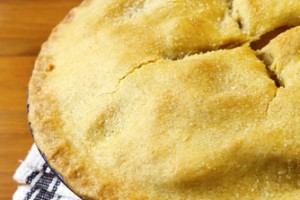 The story of how an apple pie saved me - first published in Skirt! Magazine.
---
Grief is a master of disguise. Like a vampire, it drains self-respect until you're openly sobbing in the grocery store because they're out of spray butter. It masquerades as a hypnotist, fixing your gaze on one small patch of sofa for days. It is a ninja, ambushing as you walk into a room that used to feel less empty.
Sometimes, grief is a pastry chef.
Divorce and a string of family deaths had made 1999 a hard year for me. Trying to recreate my Great-Grandmom's apple pie recipe seemed a pro-active way to break my slide into depression. Every birthday and Christmas dinner of my childhood ended with Great-Grandmom's apple pie, and these were all happy times, unless you were hoping for cake. If you wanted cake, you were out of luck until my brother's birthday.
Grief had planted that seed in my head. I realized that somewhere around pie number thirteen.
Read more: The Apple Pie Defense + Best Apple Pie Recipe Ever