For Mother's Day I decided to make my mother a chocolate cake. I've had problems with this before, like in 2016. While have a natural feel for cooking, baking has my number. All that measuring. I can't stand it. But this year turned out really well! I'm sharing the recipe I used (which shows up all over the Internet so I'm not sure who to credit it to) along with a few tweaks I made.
Cake was delicious. The decorating... that was another story. I thought I'd use some gold sparkles to make a sort of pinwheel effect...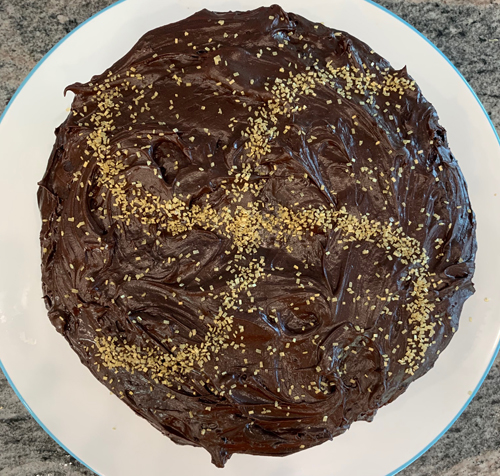 You can see immediately the problem. Not wanting to give my mother a Nazi cake, I quickly tried to erase it by placing a ring around it: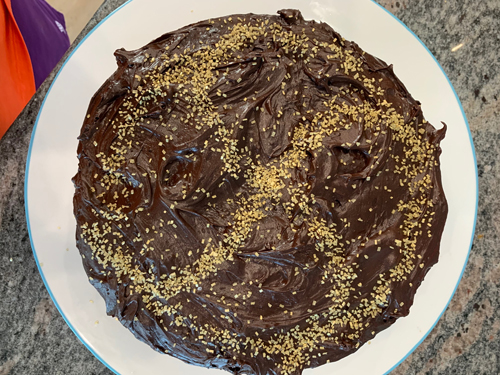 Which looks a little too much like an X-Men patch and still, well... not good. So I tried again: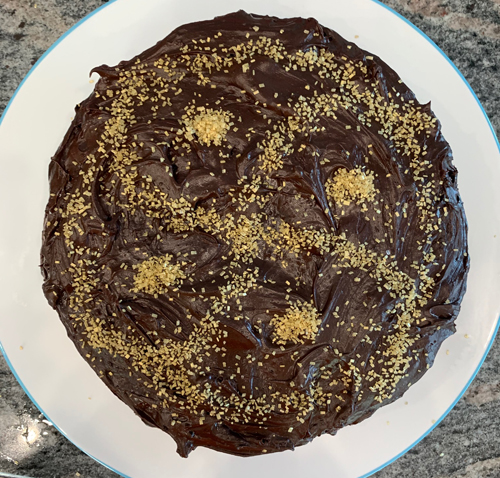 Still super ugly, but that's what she got. At least it was delicious! Here's the recipe:
Chocolate Cake
1 3/4 cup Flour
1 3/4 cup Sugar
3/4 cup Cocoa (high quality)
2 tsp. Baking Soda
1 tsp. Baking Powder
1 tsp. Salt
1/2 cup Oil (canola or coconut oil) I used coconut
2 Eggs
1 cup Buttermilk (I keep buttermilk powder in the house for bread baking, fried chicken... it turns up handy for a lot of stuff.)
1 1/2 tsp. Vanilla
1 cup Hot Water
Chocolate Buttercream Frosting
1 1/2 cups Butter, softened (I used only 1/2 cup of butter.)
1 cup Cocoa
5 cups Powdered Sugar (I only used about 4 cups)
1 cup Cream or Milk (I didn't have either of these in the house, so I used 1 1/4 cup of sour cream, which turned out GREAT)
Directions
Preheat oven to 350 degrees. In large bowl, stir together flour, sugar, cocoa, baking soda, baking powder, and salt. If you have a flour sifter, sift all dry ingredients.
In mixing bowl, beat oil, eggs, buttermilk and vanilla for 1 minute. Add dry ingredients to wet ingredients and stir until combined. Pour in hot water and mix together.
Spray two 8 or 9 inch cake pans with non-stick cooking spray. You can also use three 8 inch cake pans for this recipe. Pour batter evenly into each pan. Bake at 22-27 minutes. Place toothpick or cake tester in the center of cake to check if it comes out clean.
Let cool before frosting.
To make Chocolate Buttercream Frosting
In mixing bowl, cream together Butter, Cocoa, Powdered Sugar, and Cream until light and fluffy. You may want to add more cream or milk depending on consistency. Once cake has cooled and has been removed from pans, frost each layer with frosting. Top cake with chocolate shavings.