Amy's Posts - Stories, Recipes, Photos & Ideas
I belong to a little cooking club here (read: wine drinking club). Our theme this month was Greek, and it was my turn to do dessert. Obviously, baklava immediately threw open the saloon doors in my mind and announce it was ready for action. But, dang it, I hate doing the obvious thing. So, I thought, "What else makes me think of Greek cooking?"
Feta cheese.
Viola! Feta cheese... oh wait, I'm dessert... Hm. That is a curveball.
Feta Cheese Ice Cream! (with orange/lemon/mint sauce)
Sure why not. I mean other than the fact that my mother and sister-in-law both threw up in their mouths when told them about the idea.
Turns out feta ice cream is amazing. Of course, I could probably mix tile grout with heavy cream, egg yolks and sugar and it would end up tasting fantastic.
The sour cream and feta give the ice cream a nice tang that keeps it from being as overwhelmingly sweet and velvety as it sounds. The whole effect is very much like cheesecake. I added a tart syrup to add a little punch.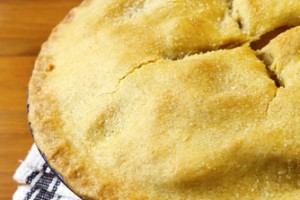 The story of how an apple pie saved me - first published in Skirt! Magazine.
---
Grief is a master of disguise. Like a vampire, it drains self-respect until you're openly sobbing in the grocery store because they're out of spray butter. It masquerades as a hypnotist, fixing your gaze on one small patch of sofa for days. It is a ninja, ambushing as you walk into a room that used to feel less empty.
Sometimes, grief is a pastry chef.
Divorce and a string of family deaths had made 1999 a hard year for me. Trying to recreate my Great-Grandmom's apple pie recipe seemed a pro-active way to break my slide into depression. Every birthday and Christmas dinner of my childhood ended with Great-Grandmom's apple pie, and these were all happy times, unless you were hoping for cake. If you wanted cake, you were out of luck until my brother's birthday.
Grief had planted that seed in my head. I realized that somewhere around pie number thirteen.
Read more: The Apple Pie Defense + Best Apple Pie Recipe Ever