I had my parents over for dinner last week and decided to make "brie bites" as appetizer. Lovely aren't they?
<---- Yeah, those aren't mine.
The problem started when the food store didn't have those cute little Phyllo dough cups, so I bought a regular old roll of Phyllo dough. Giant crinkly sheets of the stuff.
It wasn't until I got home that I realized how utterly impossible it would be to make little cups out of a material akin to what I imagine the original Declaration of Independence feels like when crumpled in your hand.
I improvised. Laid out 12 sheets or so on a cookie sheet for a base and then thought... wow, the cups have edges for a reason... to keep the pepper jelly and brie from melting into a giant pool of candied pepper goop.
So I built little Great Walls of Phyllo between plops of pepper jelly using strips of the Declaration of Independence. A little like thinking you can hold back a flood with a Post-It Note.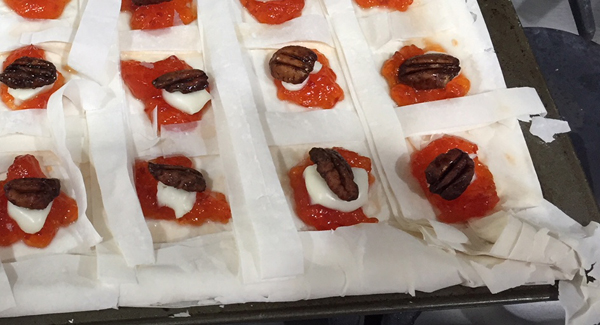 That's about when my mother entered the kitchen to investigate the cursing and told me I probably should have brushed melted butter between each of the sheets in my base.
Hm. Now you tell me. I told her I'd pour melted butter all over the whole thing and it would soak through. She said this was ill advised and not to do it. So I waited until she left the room and poured butter over the whole thing.
Then I baked it. Turns out "7-8 Minutes or until brown" really means "an hour" when you use the "remix" version of the recipe I'd invented. And here you go.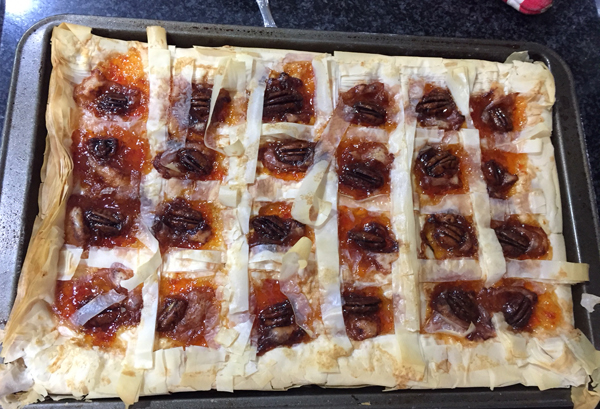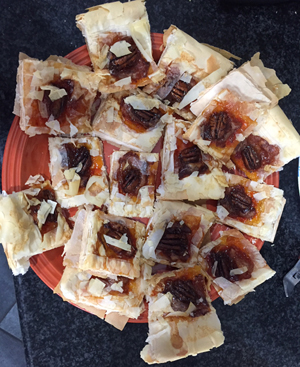 Eat your heart out Martha Stewart.
When I cut them up into squares they still looked like bandaged train wreck victims, but they tasted good, so that's all that matters, right? Though if you got a little too much of the dry edges in your mouth, you looked like a mummy coughing dust while trying to choke them down.
Here's the REAL recipe if you think you can do better (and I'm sure you can...)