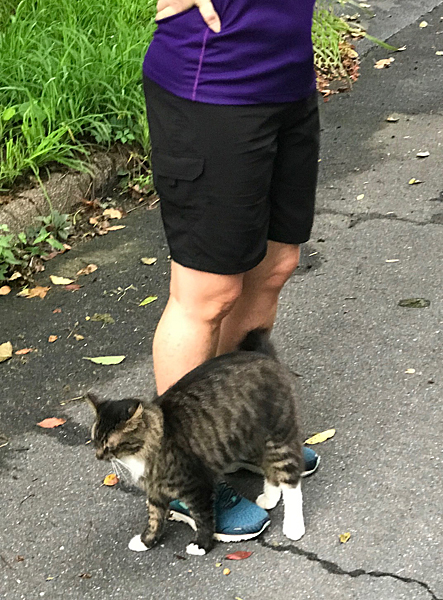 My husband and I were on our usual daily walk when Mike sensed a disturbance in the Force and whipped around. His expression was so odd I turned too, and we both spotted a cat with a tuft where a tail should be running at us full speed. It's not like a lion stalking across the Serengeti at you, but in a suburban neighborhood it can be unsettling when a strange cat has eyes for nothing but you.
As she grew closer and we muttered things like "Uh oh" and "This isn't good," she started meowing, which made her seem either less threatening or so desperate to rip out our throats she could barely stand it. We still didn't know which.
We were still rooted to our spots, resigned to our fates, when she started running figure eights through our legs and rubbing her face on my shins.
We decided we'd probably survive.
I love animals but I'm allergic to cats, so I couldn't pick up the poor thing and give it the love it so desperately wanted. It was way too early to start knocking on doors. We figured she belonged to our new neighbor and tried to walk on... but she followed us, all but tripping us as we tried to walk. We were at the point where we cross from our neighborhood to a larger one (better for walking) and didn't want to draw her away from home. So we aborted and headed back home.
She followed.
Finally, she felt she'd wandered far enough away from her home and we lost her about the time we hit our house. We walked somewhere else that day (in another direction), but hadn't quite walked enough by the time we got back to our place, so we went around our neighborhood one more time. We were giggling, sneaking around our own neighborhood, hoping The Shadow wouldn't spot us. We thought we'd made it and then...
...she popped out of the bushes and came galloping at us again! Attack of the Shadow Cat! This time she threw herself on her back and flashed her tummy at us because we were old friends.
Thank goodness she doesn't like to leave her street or we'd have a cat and I'd be sneezing my nose off...