I have a niece selling Girl Scout cookies, so even though I try very hard not to eat them, I had to buy them. (I used to sell them, so I get it!)
So, what to do with them?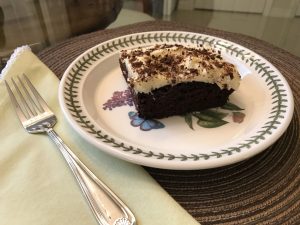 I made up this cake recipe for my mother who A. loves chocolate cake and B. eats Thin Mints by the sleeve. She said it turned out next-level delicious, and I tried it and have to humbly agree!! So if you have too many boxes of thin mints, here's a twist to use up a box!
Ingredients
1 box (2 sleeves) of Girl Scout Thin Mints
1 cup cake flour
1 cup melted choc chips
2 teaspoons baking powder
1 1/2 teaspoons baking soda
1 teaspoon salt
1 cup buttermilk
1/2 cup vegetable or melted coconut oil
2 large eggs
2 tsp vanilla extract
Blitz cookies in food processor into crumbs
Put ASIDE ¼ cup of crumbs
Mix all dry then all wet ingredients, then combine.
Put into a 9x12 pan because you're too lazy to do a layer cake and they always turn out lopsided
Bake 350 for 30 minutes more or less or until a toothpick comes out clean.
Icing
1/2 cup (1 stick) butter softened
8 oz cream cheese softened
1 teaspoon vanilla extract
1/4 teaspoon salt
3 cups powdered sugar
Mix, spread on cooled cake and then sprinkle the crumbs you put aside on top!
I imagine you could do the same recipe with the peanut butter cookies for a chocolate peanut butter cake...
Your Moment of Archie
More evidence I may be in over my head with Archie... This paired with the bags under my eyes sort of says it all..