Archer FAILS AT GARDENING
I wish there was a way to really describe to you the horror of gardening this weekend with Archer. It was like being trapped in a Tasmanian Devil cartoon --- I'd turn my back for two seconds and, next thing I knew, he was dancing across the yard with a plant (pot and all) in his mouth.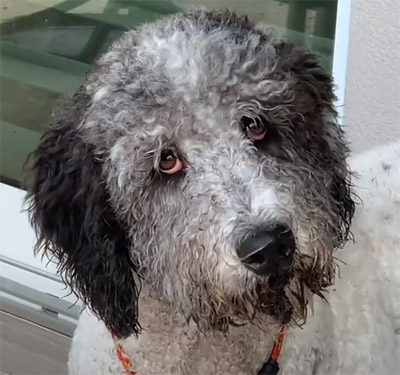 After a bunch of chasing and screaming, I managed to get the potted plant away from him. Game over, he wandered off to sniff something. I took a deep breath, found my shovel, and put a new plant in the ground.
Then I turned to grab the next plant.
That was a mistake.
By the time I turned back, there was a hole where my new plant had been.
The little jerk had sneaked up behind me and ripped out the flower I'd just planted. I found him two feet away shaking that poor plant within an inch of its life, dirt flying everywhere.
More chasing. More screaming. I got the flower away from him, and because I was really on guard now, he went to the other side of the yard and ripped out an OLD plant he'd seen a million old times before and never felt the need to destroy.
Angry I'd blocked him from terrorizing the new plants, he flung the old one into the pool.
I watched it float to the bottom, a plume of soil flowing behind it, much like the end of Jaws when the shark is blown in half and floats to the bottom of the sea with that billowing cloud of blood around it.
On the upside, I totally figured out how Archer's brain works. It's a three-step process.
1. TOUCH WHAT MOMMY IS TOUCHING
2. TOUCH ANYTHING THAT LOOKS LIKE WHAT MOMMY IS TOUCHING
3. DESTROY EVERYTHING
I did manage to get a shot of the aftermath and his adorable, dirt-covered face for you. I'm thinking next time I decide to plant anything, he might have to stay inside.
---
WINNERS OF THE "NAME THE GUARD" GIVEAWAY
Well, when I redid my website I apparently goofed and did something that kept the entries for this contest from being readable. DOH! I got the names and emails, but I didn't get to see all the fun entries, which was a bummer because I love reading all your ideas. Ah well. I was still able to pick winners!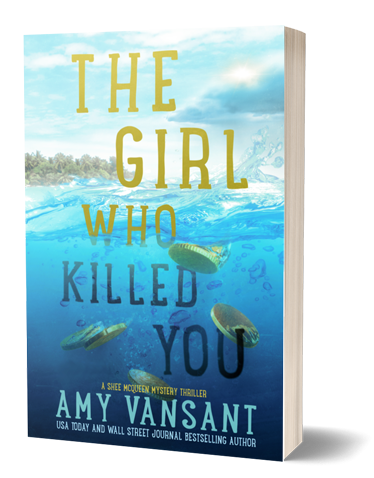 The following people get a FREE copy of "The Girl Who Killed You" which launched Monday! I already sent you notice through Amazon - if you didn't get the notice let me know!
Alan John Hamblin
Cyara
Marian Elavsky
Elaine
Julie
Kerrie Summers
Judy
Tara Davis
Norma
Bonitaz
Jackie
LINDA
Sandy Fuller
MITZI TALARICO
Gina Growe
nova
Barbara Harrison
Cindy Gnew
Leona
Fred Casiello
---
Please pick it up (if you didn't win it!) and help me break the bestseller charts!
---
SHEE MCQUEEN #1 - The Girl Who Wants

GET IT FOR ZIP! ZILCH! ZERO! 3/14 - 3/18
Did you enter the Shee McQueen giveaway (if you didn't - you can, here!) - I'll be picking the person for the Kindle on April 1st - in the meantime, here's one of the gratis books I promised you!
SAVE $2

- March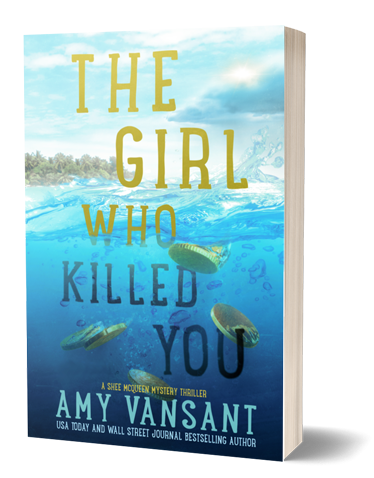 Save on the new release for a limited time! From USA Today and Wall Street Journal bestselling author Amy Vansant - the most fun you can have holding a Kindle Reader!

When Mick and his retired military gun-for-hire "fixer" service is hired by a United States Senator to find his missing son, he enlists the help of his daughter, Siofra "Shee" McQueen. An experienced tracker, Shee quickly tracks the boy to a Bahamian island playground catering to the young and wealthy. The job seems like such a breeze, she hires her daughter, Charlotte, to infiltrate the age-restricted compound. They've just been reunited after a lifetime apart, and the mission offers them serious quality mother-daughter time.
Is the mother-of-the-year award in the mail yet?
Before Shee can kick back with a Bahama Mama, the senator's son's girlfriend turns up dead. The boy is the primary suspect. Could be he's not the underachieving goofball he seemed to be…and her daughter is on the island with him.
Shee needs to extract Charlotte, but communication has been cut, and the sinister underbelly of the resort is beginning to show.
Shee will need to tap into her father's collection of ex-military misfits, including a retired FBI agent, a newly-hired thief hiding a secret, and Charlotte's father—the wounded SEAL whose heart Shee once trampled—if she's going to save their daughter.
The island has other ideas.
More New Release BookS/SALES from FriendS!
"A captivating glimpse into the life and mysteries of ancient Rome. Strong characters and a highly engaging story-line make for a powerful read. Highly recommended." - Davis Bunn, NYT bestselling author
Nancy Drew meets ancient Rome. In book 2 of Livia Aemilia Mysteries, impulsive Livia is more interested in solving the missing person case than hiring fresco painters for their new home remodel. But her husband forbids her to get involved, knowing that she could be in extreme danger. Soon their lack of trust in each other leads them to behave in counterproductive ways that threaten their new marriage and personal safety.
They eloped after a whirlwind romance, but does she really know the man she married?

When Erica's new husband, Robert, takes her back to his lavish home in California, she's surprised to find he has two small children he never mentioned. And…he expects her to care for them full time.

She loves the kids, but the isolation of being a stay-at-home mom in a new city without a support system wears her down, especially because Robert works long hours and is rarely at home.

Robert's wandering eye triggers Erica's insecurities and trust issues. She suspects he isn't as faithful to her as he claims.

Then one day she meets Chelsea, and she offers to babysit the kids so Erica can start the book she always wanted to write. A friendship develops, and it almost seems too good to be true until red flags start popping up. By the time Erica figures out who she can and can't trust, everything has already started crumbling around her. Erica doesn't know how to pick up the pieces, but one thing is for sure. The tidy suburban life she thought she had is far more dangerous than she realized.
---
Not interested any more? {unsubscribe}Unsubscribe{/unsubscribe}