99¢ books & Pre-Release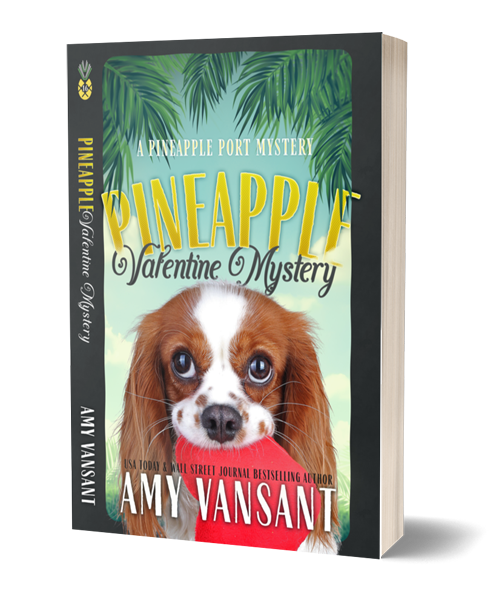 The AUDIO BOOK for Pineapple House Hunter (Pineapple Port Mysteries Book 12) is now on sale at Audible, iTunes and Amazon!
---
Now available for Pre-Order | Releases January 31!
---
Charlotte's friend Tilly dies and leaves her a cryptic message about the Cozy Mystery Killer—an assassin with a grudge against amateur detectives. Clues are hidden inside tea cosies stashed all over Pineapple Port - Declan, Mariska and Darla are ready to help!
FREE on Kindle Unlimited | See this whole series!
MY FROG HOTEL
I got another frog visitor on my camera. These guys live behind my metal pineapple wall hanging - I can hear them coming home in the morning and crawling behind to take their naps after a hard night hunting bugs. They sometimes poop down my walls, but I don't have the heart to evict them (well, I've carried as many as five of them a few houses down, and they find their way back anyway!) Looks like I've got the best frog AirBnB going!
IF YOU WRITE ANYTHING - GET GRAMMARLY

YOU'LL BE FLAWLESS - GRAMMARLY PREMIUM IS WORTH IT.
I was a holdout. I'll admit it. I was using Grammarly's free version, which I love. It was life-changing how it checks all my writing online AND in Microsoft Word. I'm using it now, and it has kept me from looking like an idiot four times already.
I didn't want to upgrade because I feared the "suggestions" would be wired more toward business writers, and my book manuscripts would be impossible to read for all the misguided suggestions that don't apply to fiction.
But, I finally gave in and upgraded... and WOW!! Grammarly Premium is TOTALLY WORTH IT. The extra suggestions lit my work-in-progress up like a Christmas tree, and they were really good - not only did it spot additional punctuation issues, but most of the suggestions to reword things for clarity were spot on. Overall, suggestions I disagreed with were few and fiction-based (it hates it when I say "old man," which is necessary - it would like me to use a more gentle "older man." 😂)
---
GIVEAWAYS
---
STEALS & DEALS FROM FRIENDS
Portrait of a Dead Guy, Cherry Tucker Mystery #1, is .99 Kindle Countdown January 23-27 on Kindle US and UK.
In Halo, Georgia, Cherry Tucker's always searching for a portrait commission and agrees to a coffin portrait of a family's murdered son. But when she finds herself caught between ex-boyfriends, an illegal gambling ring, and outwitting a killer on a spree, Cherry may have painted herself into a corner she can't escape.
Hi Everyone!