FIRST - HERE ARE THE LATEST SALES!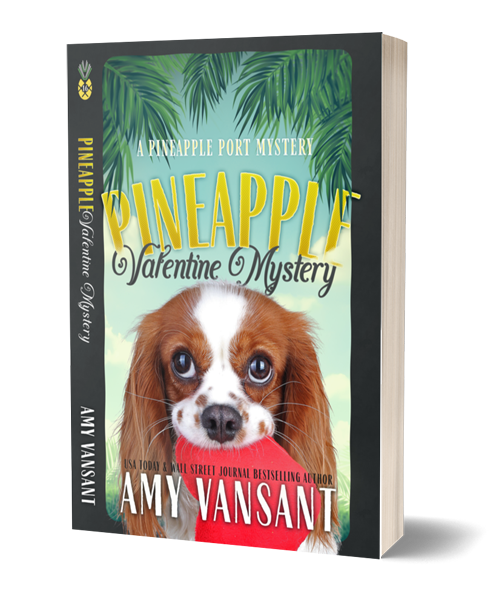 The AUDIO BOOK for Pineapple House Hunter (Pineapple Port Mysteries Book 12) is now on sale at Audible, iTunes and Amazon!
---
Now available for Pre-Order | Releases January 31!
---
Charlotte's friend Tilly dies and leaves her a cryptic message about the Cozy Mystery Killer—an assassin with a grudge against amateur detectives. Clues are hidden inside tea cosies stashed all over Pineapple Port - Declan, Mariska and Darla are ready to help!
FREE on Kindle Unlimited | See this whole series!
---
NEW RELEASE!
Shee McQueen lives in her father's hotel for ex-military mercenaries. Life is never easy...and never boring.

Bounty hunter Shee and her second-chance love / ex-Navy SEAL, Mason Connolly, are sent to the middle of Florida to protect the family of a retiring small-town drug lord, only to find the man's dead wife on her way out on a gurney. When the "accident" feels more like murder and the husband is implicated, Shee and Mason remain to protect the man's teenage son and daughter, neither of whom has any interest in making their job easier.

When a rival gang's psychotic son kidnaps their client's daughter, Mason's expert extraction skills are put to the test as the danger level in tiny Kinache, Florida notches to the boiling point.

It seems their client has more family secrets than Shee and Mason counted on...

"Think Stephanie Plum goes to Florida. With Jack Reacher. Highly recommended." — ⭐⭐⭐⭐⭐ Carmen Amato, bestselling author of the Detective Emilia Cruz police series and 30-year veteran of the Central Intelligence Agency.

Meanwhile, on the other side of Florida in Miami, Naval Academy graduate and Loggerhead Inn receptionist, Croix, has muscled her way into an FBI-backed art theft case alongside resident con artist, retired Army Captain, Ollie.

Secret family histories and dark obsessions twist both missions until they reach their explosive, gripping conclusions.
---
GIVEAWAY
---

---
STEALS & DEALS FROM FRIENDS
When an unexpected inheritance turns deadly…

Billie Halifax is not only new to Sea Glass Island, Florida, but also to the food truck business. After her late grandmother left her a non-functional fleet, Billie packed up and headed out on a new adventure, ready for anything. Or so she thought…

Her first task is to find a manager for the initial truck, so she narrows it down to three potential candidates from a local culinary school. They'll show off their skills and she'll pick the best of the best for her first truck, Taco the Town.

Billie's off to a bit of a rocky start, having to deal with a cranky business partner she didn't even know she had. Things go from bad to worse when one of the contestants competing for the manager position is found dead and the other two are at the top of the suspect list.

With her entire future at stake, it's up to Billie to solve the crime before her taco truck's next stop is failure.
---
An impending divorce. An ornery homicide detective. The cruise of a lifetime. And ghosts.
Midlife on the high seas is proving to be a real killer.
A Paranormal Women's Fiction Novel: Cruise Ship COZY MYSTERY

Escape to the tropics! Take a cruise to Hawaii without packing your bags. From all-you-can-eat buffets to Broadway-worthy musicals, the Emerald Queen has them all. Don't miss out on friendships, romance, and mystery. All board! Take a cruise today!
If I thought the first half of my life was a bumpy ride, I'd better buckle up because I'm about to go over the hill and off the rails.
*A laugh out loud Paranormal Women's Fiction Novel by New York Times Bestseller Addison Moore