THE LATEST SALES ON MY BOOKS!
THREE BOOKS ON SALE in this BESTSELLING MYSTERY SERIES (+ a new release...)
---
Funny, clean, small-town sleuth novels—with a touch of romance. The heartwarming relationships between young and old and the quirky world of loveable characters will make Pineapple Port Mysteries your new favorite series!

Book #1 of the binge-worthy series by Wall Street Journal and USA Today bestselling author Amy Vansant, Pineapple Lies, is a twisty puzzler...with an ending you won't see coming!
---
When the Pineapple Port crew pack up a snake-bus and head to North Carolina for a vacation, the Outer Banks will never be the same...

"Surprise Ending! This is the second book in this series that I have read. The plot takes one to a surprise ending. Amy Vansant has created a unique group of characters that are funny and delightful. I love her clean cozy mysteries; and I recommend this book to you." ~ Nancy Moody ⭐⭐⭐⭐⭐

The Pineapple Port crew takes a road trip to the Outer Banks, North Carolina, only to discover "body bits" in their vacation home. The nursing home next door is run by some suspicious characters and one of their residents is missing. Hmm...
---
Newly-minted detective Charlotte Morgan discovers a mysterious box in her attic, the contents of which lead her to a hotel packed with strange characters and a link to her family's past. Trusting the crafty, Yorkie-toting manager will be as difficult as tracking down the woman who might be her missing aunt.

Back in Charity, her boyfriend Declan gets tangled in a local tomato war as the locals band together to stop a corporation from destroying their fallen friend's field.
In addition, you'll meet characters from Amy Vansant's spin-off SHEE McQUEEN mystery series! Get a sneak peek at another wacky, wonderful world of intrigue and unforgettable characters!
---
USA Today and Wall Street Journal bestselling author Amy Vansant finds romance deadly in the latest installment of the fun, thrilling, twisty Pineapple Port Mysteries!
When Matchmaker Lady Venus drops dead on the Pineapple Port community center's stage during a Valentine's event, Charlotte and the new detective agency she's started with her fiance Declan are called to the scene.
---
---
YOUR MOMENT OF ARCHER
We decided to play Parcheesi and Archer didn't appreciate being left out, so I let him plot my moves for me.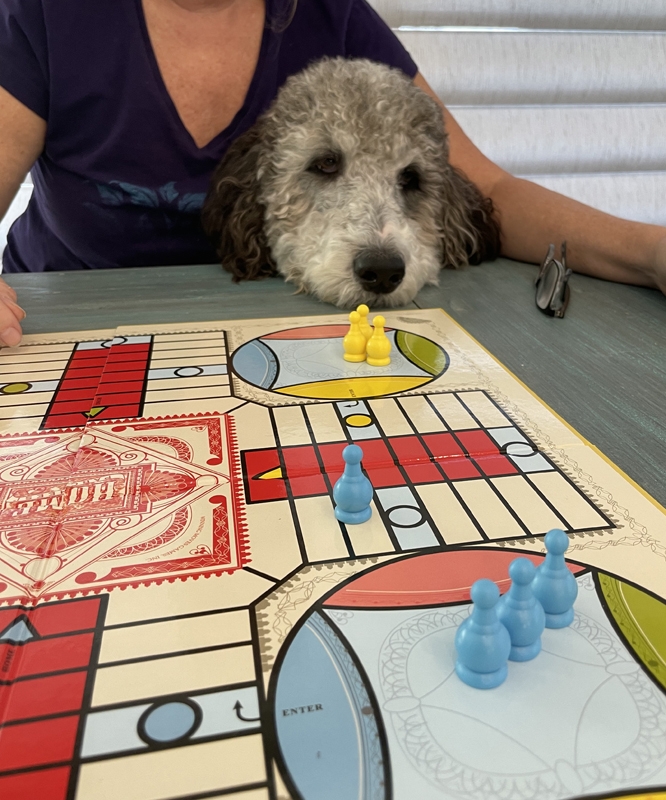 ---
GIVEAWAYS
Giveaway!
---
STEALS & DEALS FROM FRIENDS
Shifters rockstars in kilts!
"If you like shifter books, romance, and hot alpha men, you have to read this series." ~ Alpha Book Club
Kayla, a curious witch, crosses into forbidden gargoyle territory. She's intrigued by their unconventional rock concerts–and the dark-haired guitarist.
Mason, gargoyle shifter and guitarist for the Knights of Stone, has his eye on the woman in the audience. When she leaves the concert, he follows her into the island's forest.
But he discovers she's an enemy to his kind and must resist the temptation.
Especially with the threat of the island wolves losing control.
And the full moon is coming...
If you like forbidden paranormal romance, escape to a mystical Scottish isle with the rock band of brothers, the Knights of Stone. Binge this complete series today!
Mason - a forbidden Scottish gargoyle shifter and witch romance

Lachlan - an enemies-to-lovers gargoyle and wolf shifter romance

Bryce - a gargoyle shifter protector romance

Seth - a Highland wolf shifter fated mates romance

Calum - a star-crossed gargoyle and pegasus shifter romance

Alec - a forbidden Highland gargoyle and witch romance

Gavin - a gargoyle rockstar romance
A Romance Reviews Top Pick!
A Staff Pick at All Romance!
"Well now, I have decided that I want to visit this mysterious isle as often as possible, I love the mystical ambiance, the sexy gargoyle brothers (kilts...need I say more?) and the fascinating world which held me hostage from the very beginning..." ~ Night Owl Reviews
---
I'm trying to find my missing Council member, which might involve visiting the spectral plane. Something that I'm strangely not looking forward to. (sarc) The last thing I need is this...this mess. Achieving my full powers feels like mega-menopause, hot flashes and all. Unfortunately, these flashes can actually burn.

Something's changing. Something big. I'm finally achieving the last stage of my Lares power. I realize the transformation is hard. It's painful and confusing. I know all of this because my advocate, the world's crankiest moon hound and consummate know-it-all, was elated to inform me about it. What I didn't know was that I'd be trying to save one of my council members in the middle of the whole mess. Unfortunately, this is all starting to remind me of my initiation into the Lares gig. I barely survived that transition. I'm not so sure I'm going to survive this one.
---