THE LATEST SALES ON MY BOOKS!
Enter the series at any book - each is a complete standalone mystery!

When your day starts with a man stuck to the top of a sailboat mast, things have to get better, don't they?

When real estate tycoon Bucky Bloom is found stuck to the end of a sailboat mast, a land war erupts in Pineapple Port. Amateur sleuth Charlotte Morgan is commissioned to solve Bucky's murder, but soon finds herself embroiled in a competition masterminded by her boyfriend's crazy ex, the ever-nefarious Stephanie.
---
When a Pineapple Port resident is found dead during an approaching hurricane, Charlotte fears someone's trying to disguise murders as storm-related accidents. The first two victims have more than the storm in common – both were hoarding valuable storm supplies like toilet paper and water.
Hm. Maybe the killer is karma!
Bringing together the area's community leaders to spread a warning could lead to even more trouble. Last time the Five Families got together, someone ended up dead. But things could be much deadlier if Declan's crazy ex is right and the Puzzle Killer's broken out of prison…
And did that lamppost just explode, or is someone trying to kill Charlotte and Declan?
Charlotte vows to solve the crime before the storm hits. Mariska and Darla vow to find some toilet paper for sale, even if they have to call in help from their old neighbor, the revenge-genius, Gloria.
Buckle down for a blustery ride as the storm hits!
---
YOUR MOMENT OF ARCHER
We decided to play Parcheesi and Archer didn't appreciate being left out, so I let him plot my moves for me.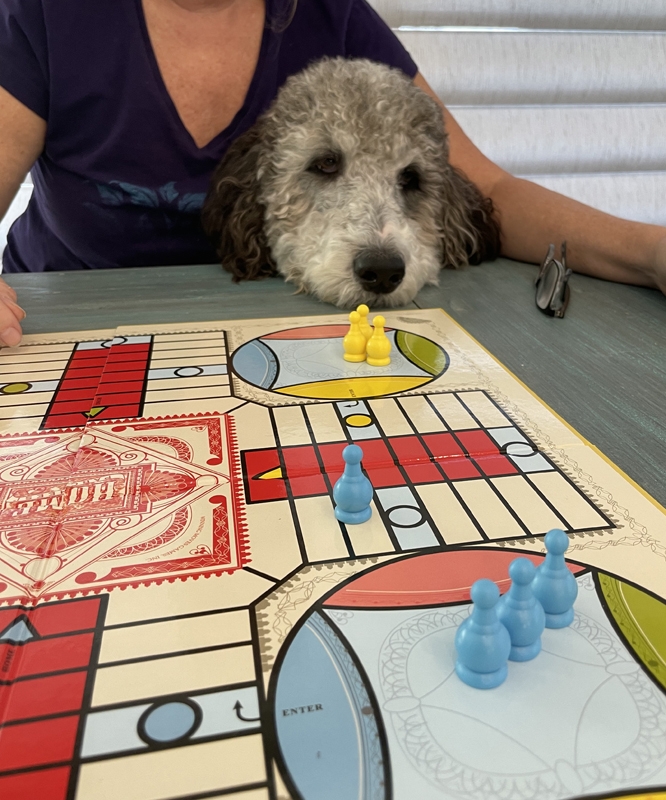 ---
GIVEAWAYS
---
TONS OF COZY MYSTERIES ON SALE!

---
STEALS & DEALS FROM FRIENDS
In The Stars (Amber Reed Mysteries Book 1 ) - FREE!
Newspaper admin assistant Amber is plunged into the exciting and intriguing world of sleuthing thanks to a desperate phone call, a murdered celebrity and a deadline to catch a killer before they strike again...
---
FROM AWARD-WINNING AUTHOR TANYA R. TAYLOR.

Secrets, Lies, and Murder.
Victoria Harvard has the perfect life - a successful career, a doting husband and now a baby on the way. She'd spent the better part of a decade fixing what had nearly destroyed her and has now become a local celebrity.

But someone is privy to a shocking secret that threatens to ruin everything she holds dear and she will do whatever it takes to see that the past remains deeply buried.
Will such a secret result in Murder and if so...will it be her own?
The first major event at the reopened Three Witches Bookstore goes terribly wrong when the new owner discovers a body in the reading nook.

Fiftyish cozy mystery novelist and spell writer Octavia Grimstone has a run-in with a memoir writer, as do a slew of other suspects, including the local mayor who broadcasts a threat over a hot microphone through the state-of-the-art sound system.

The demise of the bless-her-heart snarky author of the tell-all witch memoir does not bode well for Octavia and her bookstore co-owners. Nor does dealing with the ancient cranky cat set on bringing the bookstore back to its former glory, minus two of the three current owners. (The familiar's not particular about which witches but insists two must go.)

Octavia and Witch Doctor Cassius Drake get off to an awkward start due to her being a primary murder suspect. As an official broom-riding, countrified middle-aged witch, she is forced to battle the curse the memoirist cast on the bookstore. Yet she must solve the mystery since the lives of other community writers are at stake.

Amid a brewing author group rivalry, the possibility of unexpected romance, and warnings from the centuries-old scraggly black cat, Octavia struggles to finish writing her current cozy. Which seems more and more impossible as murder, she witches, and the grimoire pages turn.