The Girl Who Lost Him, book #4 in the Shee McQueen Mystery Thriller series, will be available by the end of the month!
I'd love to show you the cover but my cover guy is a tad on the slow side... so here's a dumb mockup I made... 😂
Win a Copy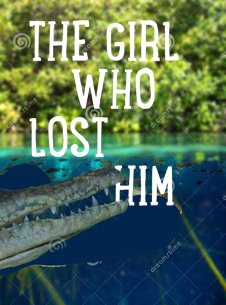 Time to name something in the book and be entered to win one of TWENTY copies! Enter your name for a nightclub in a podunk Florida town!
More
About
The Girl Who Lost HIm...
Bounty hunter Shee McQueen lives in her father's hotel for ex-military mercenaries.
Life is never easy...and never boring.
Shee and her second-chance love / ex-Navy SEAL, Mason Connolly, are sent to the middle of Florida to protect the family of a retiring small-town drug lord, only to find the man's dead wife on her way out on a gurney. When the "accident" feels more like murder and the husband is implicated, Shee and Mason remain to protect the man's teenage son and daughter, neither of whom has any interest in making their job easier.

When a rival gang's psychotic son kidnaps their client's daughter, Mason's expert extraction skills are put to the test as the danger level in tiny Kinache, Florida notches to the boiling point. It seems their client has more family secrets than Shee and Mason counted on...

Meanwhile, on the other side of the state in Miami, Naval Academy graduate and Loggerhead Inn receptionist, Croix, has muscled her way into an FBI-backed art theft case alongside resident con artist, retired Army Captain, Ollie.

Secret family histories and secret obsessions twist both missions until they reach their explosive, gripping conclusions.

Not everyone will survive.
---
Horrifying Things Your Mother Sends You
My mother's been going through old photos and found this gem she knew would permanently raise the hair on the back of my neck. Apparently, some ancestor of ours lined up three dolls and took a photo. I mean, I think they're dolls. My mom is pretty short. These might be three of my ancestors.
(2) Winners of eBook "Gift Baskets" of ALL ebooks
Other Winners of individual ebooks or paperbacks (randomly selected)
---
STEAL AND DEALS FROM FRIENDS
Who thought Doofus and Floofus would be the best cat detectives in Quinn?
Starting over in a sleepy small town would never be easy, but Misty Milton's gourmet cat food delivery business soon made her a hit with the locals.
Well, most of them…
Until her cats help a teenage couple uncover a curiously preserved 50-year-old corpse while hunting for fabled pirate treasure.That's when a tale of unrequited love, blackmail and murder rapidly unravels.And if that wasn't tricky enough, her bully of a husband has tracked her across five states, determined to drag her back to Kansas…
Can Misty and her feline sidekicks solve this decades old mystery before another murder shakes the community?
The glossy wedding venue brochure didn't mention ritual murders on the beach…
Misty Milton has the honor of planning a delicious wedding feast, and the small town of Quinn is buzzing with excitement. Misty's gourmet pet food service is booming - or it was until the arrival of an elegant new town veterinarian…Tall, frosty and blonde, Dr. Dixie Carlisle looks set to get her manicured claws on Misty's boyfriend Hank. Surely history can't be repeating itself? But this snooty veterinarian isn't the only fresh face in Quinn. And out of six new arrivals in town, two of them are already dead. Is the culprit a newcomer, or a local resident with a murderous grudge?
Infidelity, a shady adoption agency and a peculiar pastor, makes this a mystery that will truly test the bonds of trust and friendship across this sleepy seaside town.
Misty will need to rely on her feline sidekicks, Doofus and Floofus, more than ever to catch the culprit before another bizarre body appears on the beach…
The Crabby Cadaver at the Christmas Carnival: A Cozy Christmas Mystery (The Misty Milton Mysteries) Audrey Clementine $0.99 FOR A LIMITED TIME!
Christmas cookies, candy canes, cocoa… and a cadaver?
Misty Milton was dreaming of a romantic retreat, not a holiday homicide…Her special friend Hank had planned a cozy break at a snow-clad inn, far from their small hometown in California. But festive celebrations at the Christmas Carnival are cancelled when the loveable town Santa is accused of murdering one of his elves. This relaxing road trip was meant to take their blossoming relationship to the next level… elf rivalry, replica reindeer and suspicious sleighs were never on the itinerary. Helped by her cats, Floofus and Doofus, uncovering some very un-festive secrets about this quaint town in Vermont could change the way Misty and Hank feel about Christmas - forever.
Will Christmas cheer turn to Christmas fear for Misty, Hank and their feline companions?
---
A sexy Fire Elemental on the verge of self-combustion. A human woman with a touch of Water in her blood. A supernatural foe bent on destruction.
Levi, warrior and Fire Elemental, has one mission—to protect the mortal realm from the forces of Chaos. But that changes after a chance encounter with a human woman whose smile makes him burn hotter than the fire inside him.
Brooke Simmonds can't forget the mysterious man with flames in his eyes and strange tattoos on his arms who walked through an inferno to save her from a devastating apartment fire. When she finds him again, their reunion ignites a fiery passion that threatens to consume them both.
But Levi is back for another, more urgent reason. The Chaolt are after Brooke. There's a power awakening inside her, and they plan to exploit it. She's suddenly sucked into a world, and a war, she never knew existed while Levi's powers blaze even more out of control, endangering everyone around him.
The attraction between Levi and Brooke is so hot it sizzles, but if he doesn't get his fire in check and stop the Chaolt, the entire town of Topaz Ridge may go up in flames.