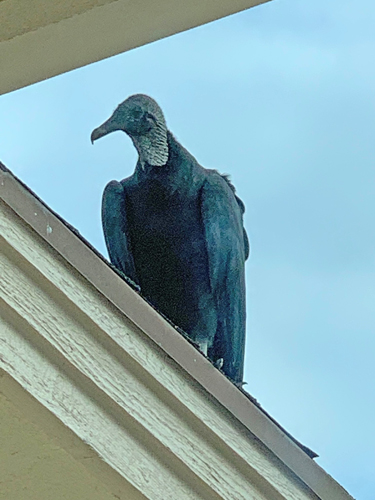 Whoo! I didn't talk about it because I thought I'd jinx it, but finally the sale of our old house is official. It's not like winning the lottery because the money just gets funneled right back into the new house, but it is a LOAD off our minds. Anyone who's ever bought and sold a house knows what I'm talking about. I think right before we started this nightmare I saw a poll about how "moving" was the second most stressful thing in life above things I thought were clear winners.
Now I get it.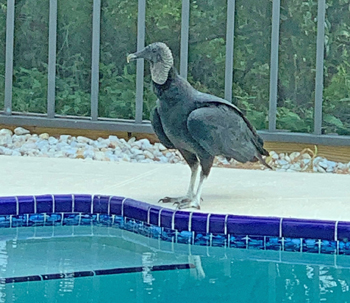 Figures the DAY after we sold it, the vultures showed up at the new house. Literally. Now what's THAT supposed to mean??! Drinking out of our pool like avian thugs and eyeballing us like portents of doom...
And to add insult to injury, today one of the adorable little lizards I love to watch run around stopped and lifted his tail. It made him look a lot like a little dog. I was cracking up...So cute! Honey look, he looks like a dog!
...and then a little black peanut fell out of his tiny lizard butt.
He'd pooped on the patio like a drunken, bitter Geico gecko thumbing his nose at us.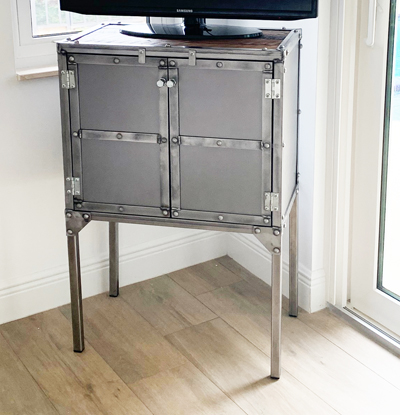 *sigh* We just sold the old house and now the new house is turning on us.
One good thing is this cool, funky little table we bought from Combine9 on Etsy.
We basically didn't bring any furniture with us because this is it, our forever home, and we want every bit of it to be special, mean something to us, or be from an artist. When we needed a table to put our little bedroom television on (okay, so Samsung made the television, I admit it.), I found this cool shop and their custom welded furniture. The process was seamless, they were SUPER nice and it arrived VERY WELL PACKAGED and in perfect shape. They even cut a hole in the back for the wires. Unlike the sofa from Pottery Barn (okay, didn't buy an 'artist sofa' either) that was supposed to be here a week ago and is now not showing up until beginning of Dec. REALLY HAPPY ABOUT THAT.
The stuff is just neat, especially if you like industrial/steampunk type things. They can make just about anything you can dream up, too!
Anyhoo, I was pretty excited about the whole experience so I wanted to share in case anyone else was looking for something unique. Combine9 is definitely worth talking to!