First, This Week's Sale: Books 7-9 of Pineapple Port Mysteries!

$2.99 - SAVE $7 - April 19-25
Books 7-9 of the Pineapple Port Mysteries - Money-saving three-book pack!
Wall Street Journal and USA TODAY Best-Selling author Amy Vansant introduces you to even more wonderfully lovable Pineapple Port characters in this three-pack collection of the hilarious mystery series keeping readers on the edge of their seats!
Fans of female-sleuth authors like Jana Deleon, Lilian Jackson Braun, Gina Lamanna and Janet Evanovich will love the Pineapple Port series' abundant humor and clever plots --- as well as Charlotte's sharp intellect and the love and loyalty she holds for the wacky 55+ community who raised her.
Pineapple Gingerbread Men - Sheriff Frank asks newly-minted private detective Charlotte to help him crack the case, but she has no idea those darn gingerbread men will start showing up everywhere. What did Santa do that made them so angry? And what's the secret in his colorful Christmas-themed bureau? Charlotte is forced to split her time between searching for Santa's killer and helping Declan's crazy ex-Stephanie stop a corrupt district attorney in exchange for a book that could help solve more crimes in the future. She never thought she'd help calculating Stephanie with anything...but as this story comes to its shocking ending, you'll find it could be Stephanie who's finally bitten off more cookie than she can chew...
Pineapple Jailbird - Book EIGHT of the hilarious Pineapple Port mystery series from Wall Street Journal and USA TODAY Best-Selling author Amy Vansant has Charlotte awaking to find Mariska and Bob gone, kidnapped from their home. Their disappearance is a message from a familiar killer: Help me or your friends will disappear. To save her loved ones, Charlotte must find a way to clear her boyfriend's crazy ex of a killing. It may be the only crime the woman didn't commit...but things don't get any easier when someone mistakes Charlotte as a traitor and sends a madman with a distinctive "tattoo" and an unusual gang of deadly pets to stop her.
Pineapple Puppies - Someone has left puppies on the doorsteps of Pineapple Port's residents, but the adorable balls of fur seem to be connected to the murder of a nearby millionaire with too many heirs of his own. Meanwhile, Mariska's been framed for baking a killer cake, and Charlotte must clear her name.
---
Traveling With Archer
We drove to the west coast of Florida to visit my mother-in-law (aka, Mariska) last week, and Archer isn't a fan of long drives in his harness: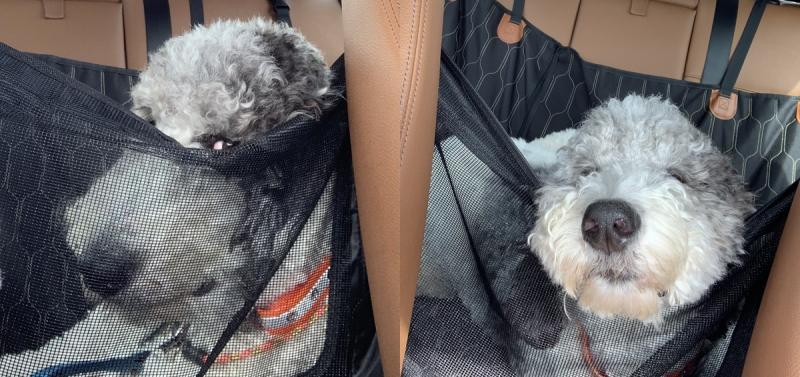 But he had a ton of fun - met new dogs, smelled new smells, rode on a golf cart (!!!)... by the end of the first day this was him. (My arm is shaking trying to hold his sliding butt up there and my legs are pressed so hard against the chair it looks like I'm literally made of knees, but he doesn't care.)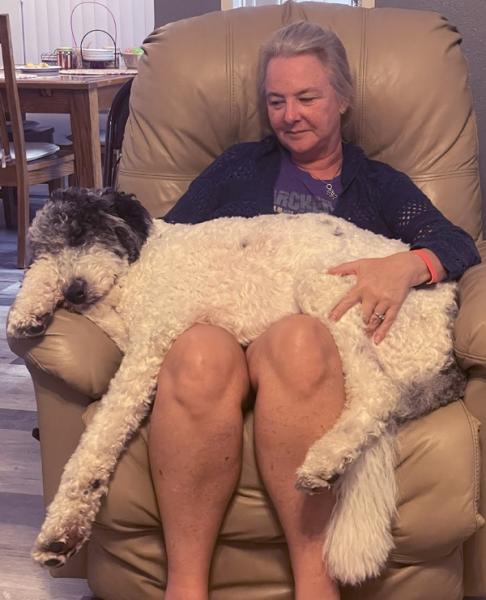 He was a little out of sorts being in a house that wasn't his, so what could I do??
---
GIVEAWAYS
STEALS & DEALS FROM MY FRIENDS
And then there were less pirates. When a young soldier comes to beg help from Thundersong and Queen Azania to rescue his sister, snatched by pirates, the scent of adventure proves irresistible. Hoicking the lad up by his bootlaces, they promptly set off in pursuit of ye foul brigands. Never mind that the King will have a Dragon's guts for whisking his very pregnant wife off across the Lumis Ocean. Minor detail. A rollicking adventure unfolds as the young lady in question proves unexpectedly elusive. Many dangers threaten out in the open ocean, from a hypnotic foe to a volcanic eruption, never mind the actual pirates. Negotiating these perils with their usual zany brand of creativity and humour is one challenge. Coming back alive, quite another.
---
When Ella Hunt's husband dies in a mysterious diving accident in Belize, she decides to buy a small hotel in Coeur d'Alene, Idaho to help her get through her grief. Ella's a specialist in designing and upgrading hotel properties and has traveled the world with her business. The once prosperous hotel she bought had fallen on hard financial times and is closed. It's difficult for a single woman, or really anyone, to turn a distressed hotel around and restore it back to its former popularity, but Ella's determined to make that happen. And then there's the problem of the former hotel owner having been found murdered in the hotel cellar. Ella never expected to have to deal with a murder, but when one of the hotel employees hints that the killer could be one of the hotel staff members, she decides she better investigate the murder in order to clear the name and reputation of her newly acquired hotel. Ella teams up with the lead police detective assigned to the case, Luke Falconer, and they receive some help from the main man in Ella's life, Boris the Bulldog. This is the debut book in the Ella Hunt Cozy Mystery Series and is bound to be a bestseller. Enjoy!
---
Barista, Paige Palmer has escaped the drudgery of academia and is settling into what she hopes will be a drama-free, ordinary life in the small New Hampshire town of Dunforth. Things go awry for her, however, when a stranger comes in for coffee and leaves her with a puzzling declaration that leads to a decades-old missing person case. Paige shrugs off the stranger's odd proclamation, but her situation becomes a bit more complicated when the body of the formerly missing person is found a few days later. She's convinced that the stranger is the killer and that he's playing a game of cat-and-mouse with her that she can't avoid. With the encouragement of her bold, but secretly tender-hearted employer, coffee-aficionado Margaret Hayward, and the crime chasing novelist, Rohan Chowdhury, Paige finds herself falling down a new rabbit hole. A story of a family plagued by lies, unrequited love, and criminal conspiracy begins boiling over in the tiny town – and a motive most bitter threatens to reveal itself.
---
When P.I. Lalla Bains is asked to look into a cowboy's missing horses and fiancée, she will uncover a con-artist with a secret agenda and a parolee on the lam with a deadly agenda of his own.
---
8:10 a.m. on 15th August 1970. They've been in Paris only 12 hours. Lianna is locked up in jail, charged with murder. Màiri is being hunted by murderous criminals. She never dreamt that travelling outside Scotland would be so dangerous. Will Màiri ever again see her comfy home in Merrylea, her loving sisters Morag and Katriona, her schoolboy nephew Niall? Major Ellis Peverel seldom leaves Màiri's side. Respected by the Paris police, shrouded in secrets, who is this man? Is he a true friend to Màiri, or does he have an agenda of his own? Who really killed the corrupt taxman for whose death Lianna has been framed? Màiri has only 6 days to find the murderer. Can she free Lianna in time? Or must she choose between her friend's freedom and her own livelihood… if she's still alive.