THE LATEST SALES ON MY BOOKS!
THREE BOOKS ON SALE in this BESTSELLING MYSTERY SERIES (+ a new release...)
---
Funny, clean, small-town sleuth novels—with a touch of romance. The heartwarming relationships between young and old and the quirky world of loveable characters will make Pineapple Port Mysteries your new favorite series!

Book #1 of the binge-worthy series by Wall Street Journal and USA Today bestselling author Amy Vansant, Pineapple Lies, is a twisty puzzler...with an ending you won't see coming!
---
When the Pineapple Port crew pack up a snake-bus and head to North Carolina for a vacation, the Outer Banks will never be the same...

"Surprise Ending! This is the second book in this series that I have read. The plot takes one to a surprise ending. Amy Vansant has created a unique group of characters that are funny and delightful. I love her clean cozy mysteries; and I recommend this book to you." ~ Nancy Moody ⭐⭐⭐⭐⭐

The Pineapple Port crew takes a road trip to the Outer Banks, North Carolina, only to discover "body bits" in their vacation home. The nursing home next door is run by some suspicious characters and one of their residents is missing. Hmm...
---
Newly-minted detective Charlotte Morgan discovers a mysterious box in her attic, the contents of which lead her to a hotel packed with strange characters and a link to her family's past. Trusting the crafty, Yorkie-toting manager will be as difficult as tracking down the woman who might be her missing aunt.

Back in Charity, her boyfriend Declan gets tangled in a local tomato war as the locals band together to stop a corporation from destroying their fallen friend's field.
In addition, you'll meet characters from Amy Vansant's spin-off SHEE McQUEEN mystery series! Get a sneak peek at another wacky, wonderful world of intrigue and unforgettable characters!
---
USA Today and Wall Street Journal bestselling author Amy Vansant finds romance deadly in the latest installment of the fun, thrilling, twisty Pineapple Port Mysteries!
When Matchmaker Lady Venus drops dead on the Pineapple Port community center's stage during a Valentine's event, Charlotte and the new detective agency she's started with her fiance Declan are called to the scene.
---
---
NEW RELEASE - NOW LIVE - eBOok & PAperback!
Amazon US | Amazon CA | Amazon UK | Amazon AU | Amazon IN
Shee McQueen lives in her father's hotel for ex-military mercenaries. Life is never easy...and never boring.

Bounty hunter Shee and her second-chance love / ex-Navy SEAL, Mason Connolly, are sent to the middle of Florida to protect the family of a retiring small-town drug lord, only to find the man's dead wife on her way out on a gurney. When the "accident" feels more like murder and the husband is implicated, Shee and Mason remain to protect the man's teenage son and daughter, neither of whom has any interest in making their job easier.

When a rival gang's psychotic son kidnaps their client's daughter, Mason's expert extraction skills are put to the test as the danger level in tiny Kinache, Florida notches to the boiling point.

It seems their client has more family secrets than Shee and Mason counted on...

"Think Stephanie Plum goes to Florida. With Jack Reacher. Highly recommended." — ⭐⭐⭐⭐⭐ Carmen Amato, bestselling author of the Detective Emilia Cruz police series and 30-year veteran of the Central Intelligence Agency.

Meanwhile, on the other side of Florida in Miami, Naval Academy graduate and Loggerhead Inn receptionist, Croix, has muscled her way into an FBI-backed art theft case alongside resident con artist, retired Army Captain, Ollie.

Secret family histories and dark obsessions twist both missions until they reach their explosive, gripping conclusions.
---
DID YOU WIN THE NEW SHEE McQUEEN BOOK??!
below are the random winners!
I'll be sending you the book today from Amazon - check your email!
| | |
| --- | --- |
| Jen | Meanwhiles |
| Angelique Asher | The Croc Pot or The Gator Pit |
| Barbara Harrison | Working Late |
| Fred Casiello | Gator Den |
| This email address is being protected from spambots. You need JavaScript enabled to view it. | Chlorine |
| Julie | Southern Plum |
| Claire Gill | The Crows Nest |
| This email address is being protected from spambots. You need JavaScript enabled to view it. | Tropic thunder |
| Tony George | Tiger Lily's |
| Ann Wood | The Wild Squirrel. |
| This email address is being protected from spambots. You need JavaScript enabled to view it. | The Queen's Hive. |
| This email address is being protected from spambots. You need JavaScript enabled to view it. | The Shady Gator |
| Lizzie | The Fruity Monkey Bar |
| Dorothy Penkalski | The Everglades End |
| Kristen | The Gator's Girdle |
| Karen | Flagler's Folly |
| Robyn K | Gator Bators |
| Doris | The Safe House |
| Jacqueline Tibbs | Bil and Jackie's downtown fun club |
| Linda | The Soused Sand Flea |
| Carolyn lancaster | Alligator Alley |
---
Your Moment of Archer
He's always liked to perch on the back of the sofa cushions, but he's been throwing himself on the shelf more and more lately... He especially likes to straddle the cushion right behind Mike, so the poor guy can't lean back. If Mike does lean back and rests his head on Archer, Arch growls. (not mean, just hey you're annoying me, Daddy...). That's his piggy next to him. He carries it around like a teddy bear. He LOVES it and for some reason never destroys it. I got it at Amazon if you'd like to get one for your fur baby!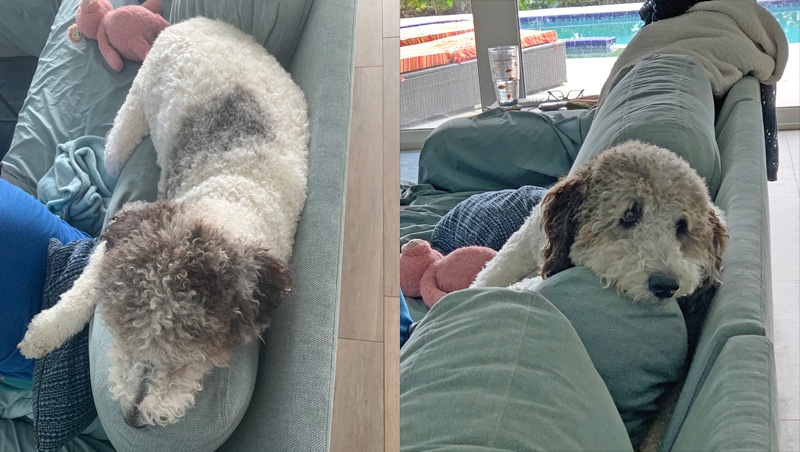 STEALS & DEALS FROM FRIENDS
When murder happens…
You can't just eat popcorn and watch.
A night at the movies soon spells catastrophe – and our intrepid sleuths find themselves closer to the chaos than usual.

Margaret, Rohan, and Paige had just settled themselves into their seats with buckets of buttery popcorn, when a gunshot sounded off like a thunderclap in the theater.

A man plunged to his death and a woman's scream pierced the darkness. With no one coming forward as a witness, and a bullet that seemed to have vanished, the staff of the Roastery on 33rd find themselves with few leads to pursue.

They think that the tragedy at the movie was the end of things, but soon, they realize they're in the second act of a case that has struck before… and threatens to strike again.

Like a shot of a coffee most bitter, things seem much more heated than they could ever have anticipated.

Can the sleuths figure out who killed who before the credits roll, once and for all?
---
A deeply buried and deadly secret resurface with a drowned Cadillac
When Lalla Bains' trophy red Caddy is discovered tail-fins up in a local lake, police ask why a widowed piano teacher, who couldn't possibly see beyond the hood ornament, is found strapped in the driver's seat.
As Lalla will soon discover, there's a shocking link between the drowned woman, her beloved father and an escaped felon--all of which will tear apart her comfortable life and bring her family into the cross-hairs of a killer.
"Fresh and fun!"
"With its engaging, down-on-her-luck sleuth, homicidal Caddy and a decades-old mystery, R.P. Dahlke's promising debut, A DEAD RED CADILLAC, will keep you turning those pages and guessing wrong right up to its surprising conclusion." Kris Neri, Lefty Award-nominated author of REVENGE FOR OLD TIMES' SAKE