Pineapple Port Tee Shirt -
Save $8!
I had some time over the weekend and made a tee shirt! I heard someone say "Get Clever" and had this idea for a custom Pineapple Port Mysteries tee.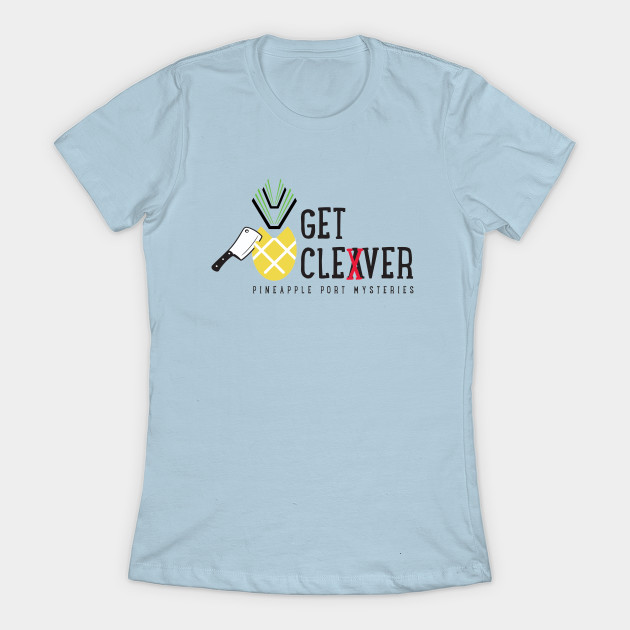 Comes in all sorts of colors and styles (my favorite, again, is the tri-blend tee (extra soft). Also available as a mug, sticker, hoodie, notebook... lots of stuff!
Apparently, when you add a new tee they put it on SUPER SALE for a few days, so right now, for example, the regular tee is $14 instead of $22. I thought it was cute so if you'd like to have a unique tee literally no one else has...
I have some other ideas for tees, so I'll let you know if and when I get around to adding them to my reader tee store!
---
GET KILTY FOR NOTHING!
I'm halfway done Kilty #6 (7-9 are now Anne Bonny's story) and have all new covers for the series. You can get Kilty as Charged, (Book #1) for $0 and Kilty Conscience (Book #2) for 99¢ TODAY!
Amazon US | Amazon CA | Amazon UK | Amazon AU | Amazon IN
FREE FOR A LIMITED TIME!
USA Today and Wall Street Journal best-selling author Amy Vansant delivers fast-paced thrills and crackling wit in this crime fantasy series you won't be able to put down... Ray Donovan meets Outlander meets Archer!
When Hollywood "fixer" Catriona spots a plaid posterior passed out on the Hollywood movie lot where she works, she doesn't know her life fixing problems for Tinsel Town's spoiled elite is about to grow more complicated. She wants to write off the ridiculously sexy, kilt-wearing Brochan as a con artist, but her adopted father seems strangely comfortable with a man claiming to have no memory of his past or knowledge of the modern world.
"Kilty As Charged has everything you could want: a very strong lead woman (Catriona); fast-paced storyline; lots of action; some huge Scotsmen; great dialogue and plenty of humor; a great cast of supporting characters; and even some time travel! A hilarious story told in a very interesting way. Throw in some mystery and intrigue and you've got yourself a great read....Amy Vansant has written a highly imaginative, mystery/love/humor-filled novel that leaves you wanting to read the next in the series ASAP!!!" ~ ⭐⭐⭐⭐⭐ MMG

A red-bearded thug, an old picture, and a three-hundred-year-old vendetta soon have Catriona worried she could lose everything—including her mysterious time-traveling Scotsman.

A Highlander followed her home...Can she keep him?
"I'm hooked. I can't remember the last time I enjoyed a book series this much! I never want it to end. " ~ ⭐⭐⭐⭐⭐ Amazon Reader
Amazon US | Amazon CA | Amazon UK | Amazon AU | Amazon IN
Your favorite modern-day Highlander and Hollywood fixer find themselves embroiled in another thrilling, funny, adventure from USA Today and Wall Street Journal bestselling author Amy Vansant.

A crime fantasy you won't be able to put down... Ray Donovan meets Outlander meets Archer!
"Like a delicious gourmet meal; you can't stop, and still want more! Found Any Vansant and the Kilty Series 24 hours ago. With a ready supply of oodles of books ready to be read, I am barreling through this series with greedy delight!" ~ ⭐⭐⭐⭐⭐ Pamela Heinrich

While investigating the kidnapping of an actor's child, time-tossed Highlander Brochan suspects a woman at the scene is the raven-haired beauty who's been haunting his dreams. Worried his reoccurring fantasies are memories of his previous life in ancient Scotland, he vows to discover if the mysterious Fiona is his true love.

Hollywood fixer, Catriona Phoenix is left confused by both her step-father's dramatic recount of her appearance in his life and her time-traveling Highlander's waning affections. She devotes herself to the kidnapping case—only to discover her romantic rival might hold the key to her mysterious past.
"Captivating - I read the first Kilty book and was so delighted with it that I bought the next two, pretty much right away. They are so much fun!" ~ ⭐⭐⭐⭐⭐ Amazon Reader
"More, more, more! I have had such a great time reading these books. So funny I even had to read some of it to my husband, who, by the way laughed out loud with me!" ~ ⭐⭐⭐⭐⭐ Amazon Reader
---
YOUR MOMENT OF ARCHER
There's a new pecking order at the house when it comes to Archer's love. It used to be:
Walks
Treats
Mommy
Daddy
Now, number one with a bullet: HOSE. Archer is BONKERS for hose. He'd do this all day if we let him.
---
GIVEAWAYS

(2) Winners of eBook "Gift Baskets" of ALL ebooks
Other Winners of individual ebooks or paperbacks (randomly selected)
---
STEALS AND DEALS & NEW RELEASES FROM MY FRIENDS
Blowin' Up A Murder (Kenni Lowry Mystery Book 8) by Tonya Kappes
Love and marriage go together like grits and gravy...or do they? Welcome to the little town of Cottonwood, Kentucky, a charming town with fun business names like Tiny Tina's Hair Salon and Cowboy's Catfish. Sheriff Lowry becomes public enemy number one when she shuts down a wedding reception when one of the catering waiters ends up dead impaled with a wedding umbrella. The bride is not happy and proceeds to beat Sheriff Lowry with her bridal bouquet! Kenni and Poppa are on the case! How lucky that Kenni is already there to start her investigation! She's got a bratty bride, a crass groomsman and dead waiter! If the murder at the wedding was not enough, she's got to get to solve this so that her friends business isn't ruined!
---
Bite Wedding: A siren and wolf shifter paranormal romantic comedy $3.99
A siren and wolf shifter romcom! Sirens in Salem? No, they can't be back.
I must have imagined them in the ocean. Something strange is going on, though. I'm in my twenties, and my hair is turning white.
When I wake up looking decades older, I freak out.
My wolf shifter boyfriend, Sebastian, can't see me like this. He's dealing with issues from his former pack. What I need is someone who knows if magic is involved. Frantic, I call my best friend, Nova, a witch.
My aging continues. Have I been cursed?
Can we stop it before I die of premature old age?
If you like paranormal romantic comedies, you'll love the Salem Supernaturals series with quirky characters, found family, magic, and mischief!
---
"The first shake shop mystery delivers all the delectable ingredients cozy mystery fans crave. This terrific series debut is certain to tempt the reading palates of fans of Cleo Coyle, Sarah Graves, and the much-missed Diane Mott Davidson."
—Library Journal, STARRED Review for Pint of No Return
The second book in the Shake Shop Mysteries—a new murder in town has Trinidad Jones thrown for a scoop!
It's Alpenfest in Upper Sprocket! Yodelers are congregating in the square, tourists flocking to the town, and Trinidad Jones is scooping up some fall flavors at her Shimmy and Shake Shop.
The cherry on the sundae is her upcoming feature in The Scoop magazine. She's determined to serve up the perfect interview, but it won't be easy, thanks in part to her meddling Cuban grandfather Papa Luis who has decided to make Sprocket his home for the foreseeable future. Papa Luis has set himself up as a taxi driver in his classic 1951 Buick.
But things take a turn when Papa Luis tells her he's found a corpse in his trunk. Upon closer investigation, they realize the body has disappeared. With the assistance of Juliette and Bonnie (her sisterhood of exes) and the way too handsome nut farmer Quinn Logan, Trinidad must solve the mystery of the disappearing corpse, before her father is up to his neck in a murderous mess.
Praise for Pint of No Return, Book 1 of the Shake Shop Mysteries:
"Murder offers the heroine a surprisingly fresh start in this charming series kickoff"—Kirkus Reviews
"A delicious charmer featuring a triple scoop of murder"—Library Journal
---
Start with a perfect spring weekend full of pretty dresses, high heels, fancy hats, horse races, and bourbon. Combine with a friend-from-childhood lover, Nate Hawthorne, whose ongoing misunderstandings have led Lucy Granger to swear she'll never move back home. Mix in a splash of combined family pressure for Lucy and Nate to be The Golden Couple. Pour over crushed ice and garnish with plenty of hot, secret hookups.

What do you get? A funny sort of romance, chock full of dressing up, mint juleps, an axe-throwing bar, and a huge winning bet at the big race.