GET THE NEW PINEAPPLE PORT MYSTERY!
Pineapple Port Mysteries by Wall Street Journal and USA Today bestselling author Amy Vansant, is a funny, clean, small-town, female amateur sleuth series, but with all the pulse-pounding excitement of a detective thriller. Every book in the series can be read as a standalone.
Pineapple Podcast is packed full of Pineapple Port surprises!
Charlotte hunts a killer with a curious cookie-cutter calling card who seems to be out to impress the local true-crime podcaster. The work keeps her from concentrating on the fact her boyfriend has been acting strange...it seems Declan is ready to make a few major life decisions.

Meanwhile, Mariska and Darla take over a local restaurant while the owner's out of town, and can't help but add a few things to the menu… bad idea, since the owner belongs to a true-crime club that roots for the killers...

Mix in an earbud-wearing puppy, a starry-eyed deputy, and white-knuckle action and you'll find yourself wanting to move to Pineapple Port...again!
Mystery Readers love The Pineapple Port Series:
"I will usually binge-read an entire cozy mystery series even if I just "like" the series. I started off just liking Pineapple Port. Now I'm starting book 8 and I absolutely LOVE this series. Thank you, Amy, for creating such a wonderful universe of great characters. I love how there always seems to be multiple storylines that intertwine. It's nice to be able to escape reality into a book. I appreciate it!" --- Amazon Reader ⭐⭐⭐⭐⭐

"Amy is one of my favorite authors. I highly recommend all of her books. No matter what genre she writes in, she manages to create books that demand that the pages be immediately turned to find out what happened because you really care about the characters." ~ Dianne Harman, USA Today and Amazon Chart #1 Bestselling Author
Winners of "Name the Ranch"
The below people won a copy of Pineapple Podcast for offering ideas for naming a ranch featured in the book!
Peggy Gimbel
Roberts


Dos Palominos

Rancho Dos Palominos
nova conover
Bliss Ranch
Thirsty Cactus Ranch
Red
Green
Bright Land Ranch
Jennifer Cary
Cary
Freedom Ranch
Donna
Acosta
Grace Star Ranch
Keli
Blankenship
Hillside Grove

Circle B

The Cross Bar
Susana D.
Duarte
Monte Belo
Suzanne Nelson
Nelson
Red Roan Ranch
Wasseesea
Riders and Drivers Ranch
Bernadette Cinkoske
Cinkoske
Rolling R Ranch
Sandra Kennedy
Sandhill Acres
Sue
Tapp
The Camaraderie Farm
Sally
The Golden Pony Ranch
Kay Zaugg
Zaugg
The Happy Daisy Ranch
Teresa
Allen
The Happy Homestead
Phyllis Lemoine
Lemoine
The jolly rancher
Tammy Windsor
The Pineapple Palomino Ranch (HaHa)
Terri Mc
Mc
Thistlebrush
Billye Herndon
Herndon
White Buffalo Sanctuary
Kristen
Cox
Wild Bramble Ranch
---
OTHER STEALS AND DEALS FROM MY FRIENDS
Mating Dance is not a step-by-step manual on how to disco or merengue. It's a chronicle filled with tales of love in unexpected places, stories of women with secret pasts, and yarns about men who don't know what's good for them or even what they want. Add to that a bit of tantalizing celebrity trivia and Cosmo-esque quizzes, and you will agree Mating Dance is the perfect read for lying by the pool, while peering over the top of the page, scoping out your next partner—the perfect inspiration to kick-start your own Mating Dance.
---
​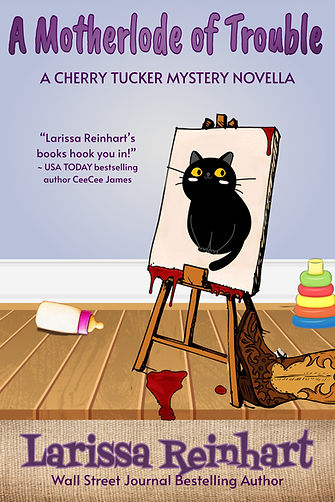 A MOTHERLODE OF TROUBLE - A Cherry Tucker Short Mystery - A Mother's Day gift from Larissa Reinhart
When a cat dubbed Trouble shows more than curiosity in the house next door, Cherry also becomes intrigued with the goings-on of what seems more than a Mother's Day reunion. Not only are the visitors packing heat, but it seems they're also smuggling stolen ice. The adage about curiosity and cats is proving true. Not only are the pistol-packin' mamas prepared to put Cherry and Trouble in a permanent time-out, but they're also threatening Cherry's new niece. Can Cherry and her feline partner stop them?
---
A troubled marriage,
A missing husband,
An early morning dropped call from him,
They all fuel fears for his safety.

When Jayne Bartlett walks into Al and Jake's private investigation office and tells them her husband is missing, they figure it's just one more case of a husband who needed a little time and space away from his spouse.

But when her husband, Corey, doesn't return after several days, and his parents and friends haven't heard from him, and he doesn't answer his cell phone, red flags of alarm begin to surface.

And faced with the difficult task of solving the case of the missing husband, the last thing Jake needs is to learn that homes have been broken into during the day on Bainbridge Island, the island where he and his wife, DeeDee, live. She's at home during the day. Could she be in danger? Would their dogs be able to stop a would-be robber?

When a friend of the missing husband gives Al and Jake a lead, they find themselves in a remote campground that serves as a trailhead for difficult hiking trails, trails they're too inexperienced to take. At this point, there's nothing they can do but put their trust in the forest rangers to find Corey, but they worry it will be too late.

This is the 20th book in the Northwest Cozy Mystery Series by a USA Today Bestselling Author.