I'll be finishing up Pineapple Port #17 over the holiday (hopefully). When you take a pause from holiday activities, enter the Christmas Giveaway and check out the special books from my friends below! Hope you all have a great break and stay healthy! --- Amy
NEED A LAST MINUTE gIFT?
I'm working on a new ROMANTIC COMEDY just to keep you all on your toes, so here's my first two on sale to celebrate! Both books 99¢ each!
Slightly series is USA Today and Wall Street Journal bestselling author Amy Vansant's mostly true story of how she met her husband.
The
Slightly embarrassing, mostly true, and one hundred percent laugh-out-loud RomCom fun!
Both books 99¢ each for a limited time (Sept. 17-24) - and always free through Kindle Unlimited
Slightly Stalky: He's the One, He Just Doesn't Know it Yet (Slightly Series Book 1) $0.99 FOR A LIMITED TIME! (also Amazon UK)
Slightly Sweaty (Slightly Series Book 2)) $0.99 FOR A LIMITED TIME! (Also Amazon UK )
ALSO 99¢ for the first time!
Each book is a standalone so start anywhere - or start the series from the beginning for 99¢

!
---
YOUR MOMENT OF ARCHER
Me, Mike, Archer and his holiday collar say Merry Christmas, Happy Holidays and Happy New Year!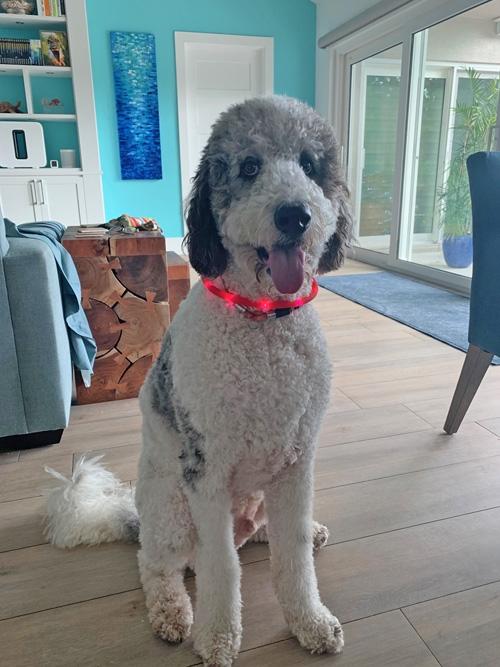 ---
GIVEAWAYS
---
STEALS & DEALS FROM FRIENDS
Book One in a new Paranormal Mystery series
Hiding in Plain Sight
by RP Dahlke
$2.99
Or get it FREE with Kindle Unlimited
All Mai-Lin Song ever wanted was to be free of her cruel husband … well, that and to be young again … and pretty. The kind of beauty that turned heads as she walked down the street. And for a price, her fortune teller had just the thing to make her dreams come true. All she needs to do is swallow the potion, and all her dreams will come true … except there's an unexpected hitch in the plan…she's now a beauty alright, but she's also a dog hiding under the bed of her 5th-floor apartment, watching the devil slide a finger under the door.
Her Catholic upbringing scoffs at the superstitious nonsense―the finger is smoke, and it has nothing to do with the devil and everything to do with the man who wants her dead.
Link to Amazon: https://www.amazon.com/dp/B0BRBP8X9W