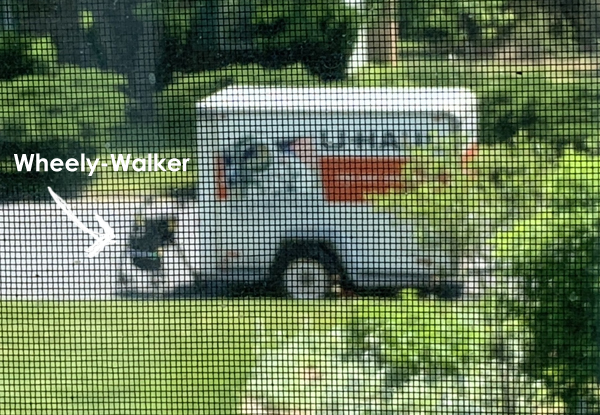 I should have known better. I used local Ebay once before and the guy showed up to pick-up my enormous bureau, alone, with one arm. He weighed about seventy pounds soaking wet (it might have been eighty before the arm went missing). I mean, sorry about the wing clipping, but maybe give me a heads-up to have someone around or bring a friend? Instead, I dug deep for Hulk strength to help him get it in his truck.
But that was nothing compared to our latest Ebay fiasco. We sold our embroidery machine, which weighs approximately one million pounds. I warned the winner of the auction repeatedly how large the machine was and told him he'd need three or four large men to move it across our rough, uphill yard. He said little. Finally, driving from several states away, he said "we'll be there in two hours" and I thought, he said we. Thank goodness. He finally listened.
Nope.
When he arrived, I watched his gray-haired wife spring out of the passenger seat a wrestle a contraption from the van. She was hunched with age.
"I'm the workhorse!" she announced.
"Nope." I said the word out loud, suffering more flashbacks of one-armed men than Dr. Richard Kimble.
The contraption in her hand turned out to be her husband's walker, which she trotted to the driver's side so he could use it to slowly roll himself towards me. It had a chair built into it, so he could rest every few feet.
Am I on Punk'd? Are they reviving Candid Camera again?
I waited for the the strapping young movers to pile out of the back of his mini-van, but, nope.
The worst part was when we slowly walked around back to show him the machine my husband and I had spent all morning rolling from the back of the basement to the patio, Pa Walker said, "That's just like our other one."
So he knew exactly how heavy it was.
The monster machine needed to be rolled to the front of the house, over rough grass and up a hill, so I made Ma and Pa shuffle off to Home Depot to buy thick sheets of wood (which also weighed a ton) so we could build a boardwalk and roll the machine from one to the next over the grass, running the one in the back to the front as we made slow and steady progress. This took me, my husband Mike, and two of our strongest neighbors to accomplish. I'm still out of breath.
Pa watched and barked suggestions from his rolly-walker. Ma we had to shoo away as she fluttered around us looking like a pale wet rag, unable to help, grumbling about the two G.I. bleeds she'd suffered the month before.
Probably, because her dippy husband has her carry the whole refrigerator to him when he wants a beer.