My mother called me a "turtle magnet" because after bombarding her with pictures of Shelby, who lives in my backyard (though granted, Shelby is a tortoise...) I bumped into this mama green turtle heading back to sea after dropping her egg-shaped kids off.
I took videos both landscape and portrait below so you can watch her drag herself back to the ocean. Sometimes I complain because my husband likes to start walking at first light and I'm usually trying to work then, but now I see the advantage of going to the beach early! Jupiter has been having a nearly record-breaking year for turtle nests (green, loggerhead and leatherback) -- we're looking forward to Aug-Oct. when the babies will start marching after their mamas!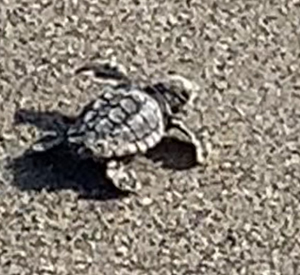 Then the very next day I filmed this little guy making his way into the water...but then realized my video wasn't running like I thought it was so all I have to show for it is this one still shot. That was some Oscar winning stuff too. Dang it.
But in case you think my life is just filled with magical turtle adventures now... there's this... SEA LICE??!